Why we grow organically

The Case for Organic Food 
The following letter was published in the Dec. 15, 2016  issue of the Napanee Beaver in response to a letter questioning the value of organic farm products. Andrew's letter focuses on some of the issues associated with glyphosate used by conventional farmers. Click on pictures or blue text to read more details.

Dear Sir,

A recent letter from Eric Kaiser has argued that the higher cost of organic food is of questionable benefit.

As a youth, I happily used chemicals on a conventional farm but, as an adult, reading about their possible negative effects  led me to  examine organic methods.

Both forms of farming now make extensive use of no-till equipment and cover crops to offer some protection to the soil. What Mr. Kaiser has not explained is that organic farmers use mechanical devices to control weeds while conventional farmers use herbicides, particularly Monsanto's Round-Up which contains the chemical, glyphosate.
 
So extensive is the use of glyphosate that recent research by the U.S. Department of Agriculture shows that all Americans are likely to have its residues in their blood. Unfortunately, no such tests have been carried out in Canada but there is no reason to think the results would be any different.

Whistlebl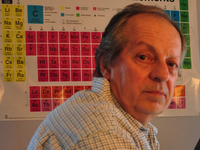 owers at the U.S. Food and Drug Administration say that scientists opposed the approval of glyphosate over health concerns but were over-ruled by their political bosses. The basis for its approval in Canada remains secret as Health and Welfare Canada, under both Conservative and Liberal governments, has consistently stonewalled concerned citizen Tony Mitra's requests for information.

Researchers at the Massachusetts Institute of Technology (MIT), the number one ranked university in the world, have found that, glyphosate, a synthetic amino acid, mimics glycine in the body and affects the brain and several internal organs, particularly the liver. Glyphosate is now associated with increased rates of many medical conditions from childhood autism to lung disease. Communities exposed to glyphosate have far higher rates of cancer. The International Agency for Research on Cancer states that glyphosate probably causes cancer.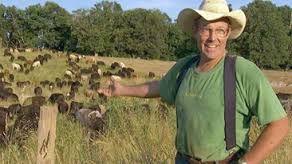 Mr. Kaiser is generally right that organic methods have lower productivity. Those conventional famers transitioning to organic require many years to rebuild soil health; however, farms with generations of soil-building have productivity levels higher than conventional farms. At Polyface Farm in Virginia, the owners have eight times the number of cattle per acre than the state norm. Unless I had witnessed it myself, I would not have believed it.

Mr. Kaiser did not point out that herbicides, like glyphosate, kill the good bacteria in soil and is one of the reasons their use is associated with poor soil health and lower nutritional value in food. It would take 20 modern apples to match the food value of iron found in just one apple from 50 years ago. In contrast, organic methods enrich the soil with nitrogen that leads to higher nutritional levels. A Scottish university study showed that organic products often have higher nutritional content than those of conventional farming.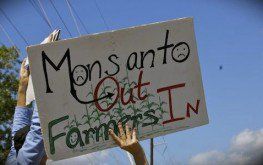 Mr. Kaiser is also right when he says organic products are not free of herbicide residues but simply have less than conventionally grown crops.  That's not for lack of trying. We are surrounded by farmers using glyphosate and their spray can drift onto our property and contaminate our soil. This undermines our efforts to farm organically and compromises the quality of our crop. If we grow any of the major crops such as corn or soya beans and any of our neighbours' seed or pollen lands on our property,   genetically-modified hybrids can be the result and Monsanto can accuse us of stealing their patented seeds! We are victimized twice.


Finally, the bible calls on all of us to be good custodians of Creation. As a Christian, I really wonder whether pervasive use of poisons like glyphosate really honours the Creator's intentions for taking care of the Earth. And whether we can actually afford cheap food given the costs on human health.
 
Andrew Michalski
Retired Teacher and Active Farmer
Pastured Organic Eggs 
 
Supporters of St. Isidore Farm receive Andrew's introduction (below) to pastured organic eggs.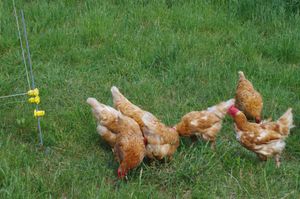 Eggs are one of the most demonized foods thanks to the cholesterol myth. The old belief is that cholesterol, found in foods such as egg yolks, leads to heart disease. However, several studies show that eggs are a very healthy food. Participants in recent research at Yale University consumed two eggs daily for six weeks with no spike in cholesterol levels and no negative effects on endothelial function, a measure of cardiac risk.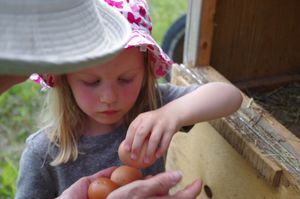 Some of the many nutritional benefits of whole eggs are
:
six grams of high quality protein and all nine essential amino acids in every egg

lutein and zeaxanthin that promote eye health

antioxidants for your lens and retina that help prevent eye diseases such as macular degeneration and cataracts

choline, a member of the vitamin B family essential for nervous system, cardiovascular system, and prenatal brain development

naturally occurring vitamin D (24.5 grams)

sulfur, an essential component of glutathione, also promotes healthy hair and nails

many other vitamins and minerals (B vitamins, vitamins A and E, calcium, copper, iodine, iron, magnesium, potassium, selenium, and zinc)

a four to sevenfold increase in absorption of vitamin E in vegetables when combined with salads, according to recent research at Purdue University
 
Most eggs in the grocery store come from commercial facilities that typically house tens of thousands of hens confined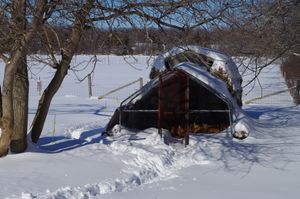 in cages and fed soy, chemicals and antibiotics. "Free-range" eggs come from hens that have access to the outdoors but usually remain in the building. In contrast, "pastured eggs" are from hens that roam freely outdoors where they forage for their natural diet of seeds, green plants, insects, and worms. Oregon tests in 2005 and 2007 of pastured eggs compared U.S. Dept. of Agriculture data for commercial eggs and found pastured eggs contained:
2/3 more vitamin A

3 times more vitamin E

2 times more omega-3 fatty acids

7 times more beta carotene.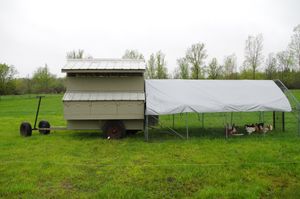 My wife says that these happy hens are able to express their "chickenliness" while I describe them as "self-actualized chickens". Whatever, the result is a delicious egg with dense bright orange yolk. Like many organic egg producers, our hens receive a supplement of organic grains, kelp, fruit and oyster shell. They also enjoy a mobile coop (left and above) and a spacious screened grazing area that protect them from predators. The coop and grazing area are moved daily to ensure access to fresh grass. We hope you enjoy these high quality eggs as much as we do!
Organically and ethically raised grass-fed beef
Consumers interested in buying grass-fed beef received the following letter of Oct. 15, 2017 from Andrew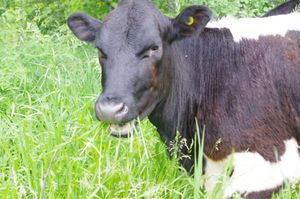 Hi there:
We believe that happy cattle result in great food for you. Once again, we're delighted to be offering some wonderful grass-fed beef that's been ethically, humanely and organically raised. For two years, our beef animals lead a low-stress life they were designed for.
Using our rotational grazing program, based on the Joel Salatin model, our livestock are grazed daily on untouched grass, a technique that is sustainable and gives back to the land. We use
no growth hormones or vaccines

no routine use of anti-biotics

no grain-feeding to bulk up with (bad) Omega 6 fats

no feedlot finishing
Just lots and lots of green grass!
Grass-fed beef has six big advantages over grain-finished beef.
Up to four times higher in omega-3 fatty acids, an important nutrient in fighting inflammation associated with Alzheimer's, heart disease, cancer and arthritis.

Much higher in Vitamin E which helps fight memory loss associated with Alzheimer's, some types of liver disease and rheumatoid arthritis.

Twice the levels of conjugated linoleic acid, a polyunsaturated fatty acid linked to diabetes and cancer prevention.

Higher in most nutrients such as zinc, vitamin A, and potassium

Well-marbled for a superb taste experience.

Better environmentally with soil enriched with nutrients and carbon rather than weakened from tillage-produced oxidation and CO2 emissions.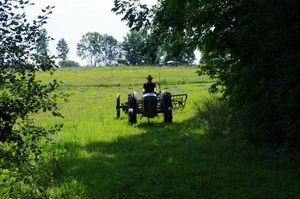 A large two-year-old steer produces about 550 pounds of "hanging meat" that has been cured for two weeks. Half of a carcass is called a "side" at about 225 pounds. A quarter is about 110 pounds and is called a "split-side" because the butcher ensures that each quarter has an equal amount of the good cuts from the hind end and weaker cuts from the front.
About a quarter of the weight is lost in cutting and wrapping but this estimate depends on your instructions about fat trimming and removal of bones.
The approximate breakdown of the order is:
60 per cent utility cuts such as stew meat, ground meat, hamburger patties

15 per cent steak – sirloin, strip loin, rib eye, tenderloin, flank, t-bone

25 per cent roasts – rump, blade, cross-rib, short-rib, sirloin, prime rib, and round

soup bones, liver, heart and tongue added upon request.
We hope that this custom processing allows you to receive a variety of cuts while utilizing the entire animal... For more information about our farm and rotational grazing methods, please see our website, StIsidoreFarm.net or see us on Facebook.