The Globe and Mail publishes an article on May 18, 2018 by free-lance writer Tiffany Cassidy  about the farm's contributions to saving heritage sheep and cattle. Globe photographer Fred Lum spends the day photographing the animals digitally  and taking animal portraits with film. A wonderful overview of the need to maintain bio-diversity in agriculture.
St. Isidore Farm is going to Landmade again Kate will attend the third annual Landmade sale that connects urban makers with local farmers from Upper Canada Fibreshed. Held Sunday, Feb. 3, 2019 from 10 am to 2 pm at the Gladstone Hotel in Toronto, the sale features Ontario suppliers of organic fibre from sheep, alpacas and goats. Keen fibre artists can expect St. Isidore Farm to offer  Lincoln Longwool fleeces, curls, roving, and yarn. Kate also attended Landmade in 2018.
---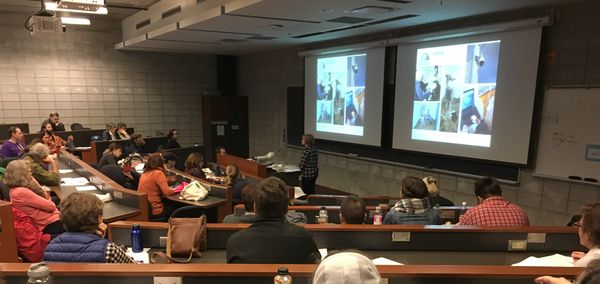 Canadian Organic Conference, University of Guelph Kate discussed her experience of the humane and organic rai

sing of sheep at a workshop on Saturday, Jan. 27 at the COG conference. About 80 people filled the room to listen to such  topics as choosing a breed, health and feed, housing, breeding and lambing and predation. Great to meet so many sheep and heritage breed enthusiasts! 
---